Near Infrared Sauna
3 Headed Lamp with Deluxe Base and Chrome Arms:
In addition to beautifully made low emf wood Sauna Boxes we also recommend this model which may offer more flexibility in terms of height and bulb placement. You can easily use this model while sitting or laying down. Each light can be turned on and off individually making this perfect for single light sessions – such as shining a single light on your abdomen during your coffee enemas.
The sauna stand offers a total of 750 watts (250 watts per bulb) and is made in the USA.
Each set includes a lamp, bulbs, and protective bulb cages.
This lamp comes with a 1-year warranty.
Place the panel in front of you, plug it in, hit the switch and you have yourself a powerful and safe 3 lamp near infrared sauna. Refer to the infrared sauna therapy article for detailed instructions on how to safely begin your sauna sessions.
Click here to order your 3 Sauna Light Base
Click here to view our recommended wood sauna models
Premium non toxic BPA-Free Silicone Enema Kit
The main reason we recommend this kit over any of the others we have tried is because it is made of all medical-grade silicone parts and this updated model includes an easy to use and fail safe valve. No more risk spills or messes with faulty or weak clamps. Not only is this kit easy to assemble and use, it has no toxic plastics. The price is exceptional at under $50 for the 2 quart kit. You will be doing one or more session per day and you want a reliable non toxic enema bag. PurEnema Silicone Enema Kit
Organic Coffee
Where to buy it:
We recommend a dark roast organic coffee for your retention enemas. Please avoid light roasts (made for enema coffee) as there have been reports of clients getting sick from it. Dark roast would be best. You can easily find these in most supermarkets at this point however since you will be using quite a lot, it might be worth saving a little money and buying it in bulk. We have found very well priced 5lb Organic Dark Roast Coffee available from Amazon but check locally as you may be able to get better deals at your local coffee shop. For best freshness buy it whole bean, store it in the freezer and grind it as needed. Buy Organic Dark Roast Coffee Online
Supplement Related
Supplement Order Form
Most of the minerals and supplements recommended in your program are specifically formulated to support specific hair mineral analysis patterns. These formulations are available for purchase directly from Endomet Labs. Here is the order form you will need.
Kelp
This information is in your packet but we thought we might as well make it available for you on this page. The best deal on quality Kelp we have found so far is for the Natures Way brand on Vitacost.com. They offer 180ct for $5.99 Existing Vitacost customers use this direct link to Natures Way Kelp or use this link to get $10 off your first order of $30 or more
Kelp Powder
For those of you doing Kelp wraps we recommend the Monterey Bay Spice Company Kelp powder. You can buy it by the pound at an excellent price. Bulk Kelp Powder
TMG 500
Here is another supplement that is not currently available from the Lab. Vitacost is again a great place to purchase this essential supplement. The brand we recommend is Jarrow TMG 500mg currently offering 120 tablets for $8.99 Existing Vitacost customers use this direct link to Jarrow 500mg or use this link to get $10 off your first order of $30 or more
Alternatives
Colloidal Silver
One of the most helpful alternatives we have used when dealing with healing reactions or infections of many kinds. Colloidal Silver is a simple, low toxicity, and often very effective anti-viral, anti-bacterial, anti-fungal and even anti-parasitic agent. It consists of small, electrically charged silver ions dissolved in distilled water. We use it whenever we feel anything starting to come on and have been very happy with it. It is also available in a gel format for skin irritations, cuts, scrapes or rashes. Not all colloidal silvers are the same, quite the opposite, at this time We recommend the Sovereign Silver brand.
Energetic Resources
Roy Masters Meditation
One of the simplest and least intimidating meditations I have ever experienced. This is one anyone can do easily regardless of their experience or state of health. Online recording by Roy Masters available here. Practice this anytime of the day but especially during your saunas or enemas. Dr Wilson has a modified recording available here.
Books & Movies
We have been using Amazon Prime for over 4 years now and are very satisfied. We are mindful of what we watch and have very little tolerance for the lower frequencies injected into our homes by commercials or violence. Amazon Prime has amazing documentaries, almost any TV show you could imagine and includes free 2 day shipping on Prime eligible items. We haven't had cable for over 3 years now and have not missed it one bit. Most of the books and movies we recommend below are available on amazon. Try Amazon Prime 30-Day Free Trial

.
Recipes and more
Joyful Cooking by Joy Feldman
With
this easy to read book and recipe guide, Joy takes the guess work out of the Nutritional Balancing diet allowing one to find recipes that work for ones oxidation type. Beyond recipes, Joyful Cooking also offers excellent information about the foods we should avoid and why, shopping guides and much much more.
In Joy's new kitchen resource, this unique cookbook for both young and old, not only provides over 100 recipes for health conscious cooks, but also contains groundbreaking new information in eight easy to read chapters on the nutritional balancing program: a total healing system designed to restore and balance the body and the mind.
Joy even includes strategies that will help any parent incorporate better health for the whole family. Kids of all ages can benefit from the healthy eating guidance offered in her chapter on Healthy Children and recipes dedicated to children ensuring that they are getting a nutritious diet. These ingredients used to balance, restore, and heal, are for all individuals, both young and old, in pursuit of good health.
Is Your Hair Made Of Donuts? by Joy Feldman
This
is a wonderful children's book that teaches the importance of a healthy diet and the scary truth behind sugar and sweets. This book is easy to read and will make a great bedtime story, planting the seeds which will help your child grow strong and healthy.
"In a world that super-sizes everything, the Blossom family does things differently. Matt and Maddie Blossoms Mom doesn't allow them to eat donuts, candy, chocolate…you know? All the things kids really, really want.
Using a whole lot of fun and beautiful illustrations, the theme of eating healthy and the old adage, you are what you eat becomes an adorable, laugh-out-loud story that kids will not only love, but learn from. Is Your Hair Made of Donuts? empowers young people to take control of their health with each delicious page of knowledge found in this magical journey."
Sauna Therapy by Dr. L. Wilson
Discover
why we need this safe and effective detoxification tool today more than ever before. Sauna uses for all cases and conditions are clearly presented with easy to use plans to set up your own infrared sauna. An essential book for anyone on a Nutritional Balancing program.
Sixteen chapters describe the use of saunas for detoxification of heavy metals and toxic chemicals, and for alleviation of infections and other disorders.
Topics include:
Sauna physiology
Protocols for sauna use
Adjunctive therapies
Cautions and contraindications
Sauna design
A detailed case history
Patient testimonials
Plans for an excellent, low cost electric light sauna
Homesweet Homegrown by Robyn Jasko
Cute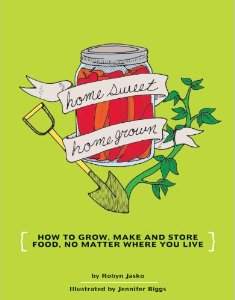 Little Guide to Grow, Make & Store Your Own Organic Veggies Anywhere!
This succinct handbook is packed with practical information that will inspire and enable those who want to grow their own food and venture down the path of food independence. From choosing and starting seeds to preserving the harvest, cost effective and time-saving projects are set forth in detail.
Some of these include:
Instructions for making DIY planters and irrigation systems
Designs for upcycling old furniture into gardening stations
Recipes for homemade organic plant sprays
Charts listing dollars-and-cents breakdowns of homegrown versus store-bought produce
Growing guides for fruits or vegetables
and more…
Listed above are just a few of the projects that will inspire neophyte and experienced gardeners to dig deep into sustainable living.
More to come…