Why buy a Baby's Breath air purifier
Sounder Sleep
Reduced Snoring
Stop Sneezing
Reduce nighttime allergies & asthma attacks
Strengthen your immune system
Reduced coughing and wheezing
Eliminate dry mouth and runny nose
Who should consider the Baby's Breath air purifier?
Parents and grandparents looking to improve the nursery air environment to healthy, fresh, clean air
Those concerned with the effects on the baby from dust particles, gases emitted from furniture, rugs, outside industrial gases etc.
Health conscious families
Why is the Austin Baby's Breath Machine the best choice?
Uniquely designed to protect your baby from air contamination
Removes particles in the air including dust, pollens and gases called Volatile Organic Compounds (VOCs) from indoor sources
Ensures a healthy nursery environment
Removes viruses and bacteria
Will cleanse the air for areas up to 700 sq ft
Chosen by the Red Cross and FEMA to address the air quality concerns in post 9/11 New York.
Add the Austin Baby's Breath air purifier to your cart:
Price:435.00
About the filter
All air purifiers come with a filter. The information listed here is for replacement filters. All replacement filters have 5 year life expectancy.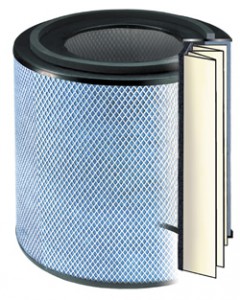 Replacement Filter for Allergy Machine Junior Filter and Baby's Breath
The Baby's Breath Filter delivers the best all around protection for clean air in the Austin Air Filter family.
The Baby's Breath Filter is constructed using a true medical High Efficiency Particulate Arresting (HEPA) filter and a Activated Military Carbon Cloth. HEPA filters remove 99.97 percent of all particles down to 0.3 microns in size and 0.1 microns 95 percent. This filter fits into all the junior size Austin Air Purifiers, sometimes referred to a HealthMate Junior Air Purifiers.
Add your Allergy Machine Replacement Filter to your cart:
Price:205.00
Warranty details
Backed by the best warranty in the industry, you can take pleasure in knowing you've made a sound investment with your Austin Air cleaner.
30-Day, No-Questions-Asked, Money-Back Guarantee
In the unlikely event that you're not completely satisfied with your Austin Air cleaner, return it within 30-days, no-questions-asked.
5-Year Mechanical Warranty
Your Austin Air cleaner is warranted to be free from defects in material and workmanship for a period of 5-years from the date of purchase; provided your Austin air cleaner was operated under normal residential use and that you have completed and returned your warranty registration to Austin Air Systems.
5-Year Pro-rated Filter Warranty
Austin Air offers a 5-year pro-rated filter warranty, by far the most comprehensive in the industry. No more costly filter replacements every few months or even years. Austin Air filters are designed to last for an amazing 5-years, under normal residential use.